Measuring a return on investment in Salesforce DevOps is a difficult undertaking, but a task that's well worth the effort. An ROI evaluation is sometimes required by teams who need to convince their senior management of the financial benefits of implementing a new process, especially when purchasing new DevOps tools. There are also good business arguments for continually measuring your performance and assessing the value added by your Salesforce team.
Calculating the ROI of a transition to DevOps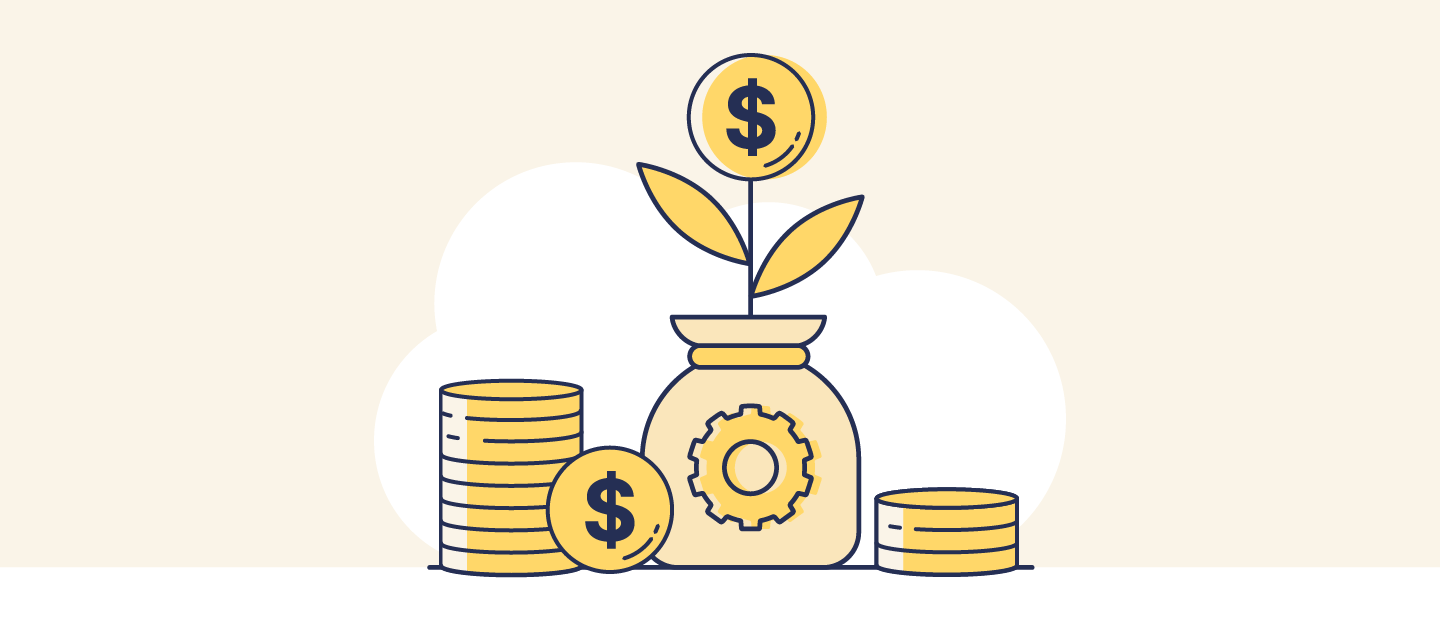 There are many compelling reasons why teams of Salesforce admins and developers make the transition from developing and customizing directly within their Salesforce orgs to adopting version control and implementing fully fledged DevOps. We've analyzed the findings of our State of Salesforce DevOps 2021 industry survey to gauge the impact of this transition to DevOps in terms of ROI. Salesforce professionals highlighted the following key improvements to their processes as a result of implementing a DevOps workflow: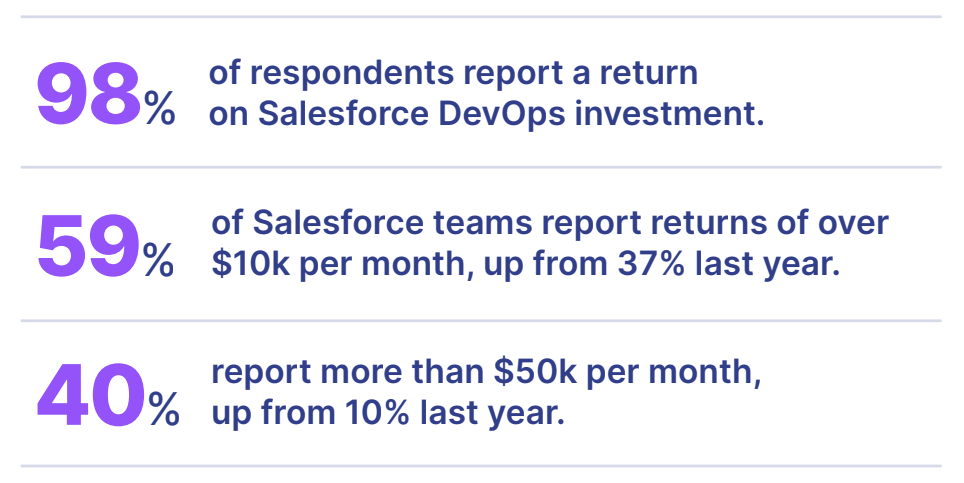 Clearly there are considerable business benefits that result from the above and other improvements to a team's process. Some of the benefits are more easily quantified than others. When evaluating a new DevOps tool like Gearset, for example, some teams initially focus on cost savings as the key metric for their ROI assessment - since teams that spend less time on deployments are saving money for their companies. The specific amounts saved can be worked out relatively easily on the basis of hourly employee costs per deployment. The costs of licenses for a DevOps tool and the initial cost of the ramp-up time needed for the team to get set up with the tool can then be offset against these savings to produce an ROI figure.
But Salesforce DevOps isn't just about adopting an improved process or new tooling, it's also a way of working and a development philosophy. To put it another way, speed of delivery and increased productivity aren't necessarily the only or even the primary goals for teams looking to adopt a DevOps process. Our survey results show that teams value other benefits of DevOps just as much or even more, such as higher quality releases and improved team collaboration. And these other benefits aren't always easy to quantify. So the question is: how do you put a value on a DevOps culture?
Aligning Salesforce teams with business objectives
One place to start is by recognizing that the culture of high-performing Salesforce teams reflects the culture of high-performing organizations. Your Salesforce team isn't an infinite resource, so efficiency is key. DevOps enables teams not only to get more work done quickly, but also to produce higher quality work by collaborating effectively and not getting bogged down in repetitive, manual tasks.
As we discuss in our survey report, teams have seen a growing workload as businesses rely on Salesforce for ever more of their operations. The volume of work expected from Salesforce teams will continue to increase as businesses request more timely customizations of their Salesforce instances, so they can seize commercial opportunities and fulfill new operational requirements.
But all this leaves admins and developers juggling an increasing number of requests from business units and end users. As in any area of work with conflicting priorities, it's then often the 'loudest' rather than the most strategic projects that get delivered.
As a response to growing workloads, just hiring new employees to get more work done won't solve the problem unless the Salesforce team have a streamlined DevOps process in place. Teams using a traditional in-org development approach can quickly run into issues around the complexity of their processes, making collaboration, change tracking and conflict resolution more difficult, especially if admins and developers are dependent on each other's separate workflows. Without version control, which is at the core of the DevOps workflow and helps teams manage these complexities, development and release processes are difficult to scale up. The classic case of developers overwriting declarative changes made by admins springs to mind here.
The adoption of DevOps empowers teams to release more often, making smaller but more frequent iterative improvements to their orgs using a single, shared and easily scalable process. Crucially, DevOps allows both admins and devs to work in a more agile manner, with tighter feedback loops, fewer bottlenecks, better quality controls, and more input from stakeholders across the organization. In this way, DevOps gives teams the flexibility to respond rapidly to changing business requests and scale their processes dynamically as the business grows.
Measuring the performance of Salesforce teams
Clear company objectives can help a Salesforce team measure their performance as a contribution to the goals and needs of the business. This can be done by keeping track of common DevOps performance metrics:
Frequency of releases to production
Time needed to deploy between development environments
Lead time of changes from completed development to release
Change failure rates (percentage of releases with bugs or error)
Time required to restore service
The key point is that teams should measure their DevOps performance - both as a way of tracking their progress and to report on their contribution to the strategic aims of the business. As with everything else in DevOps, performance tracking can be automated (or accessed via Gearset's in-built management reporting functionality).
Frequency of releases
While a performance metric like 'release frequency' isn't hard to measure (based on the number of releases over a set period, there isn't a catch-all model for how teams should go about calculating the dollars-and-cents impact on their company. A faster release cycle means the Salesforce team are better able to jump between parallel workstreams and quickly incorporate stakeholder feedback without running into conflicts.
Frequent feedback also means less time is wasted on building features that don't meet requirements. This way, teams can benefit from a 'Shift Left' approach to releasing larger projects incrementally as multiple smaller releases. All in all, faster releases translate into increased business agility, where the value of a rapid release frequency will depend on how highly the company prioritizes its ability to adapt and respond.
Deployment times
A team that spends less time on tricky, error-prone manual processes thanks to automation is spending more of their time generating business value. Given the substantial time savings (up to 12x faster with Gearset) businesses can free up their Salesforce team to work on other important or strategic projects. Even with version control and a DevOps process already set up, the choice of Salesforce deployment tool can make a big impact on deployment times by making sure deployments succeed first time. Gearset has an average deployment success rate of 91% and will automatically resolve over 60 common deployment issues.
Lead times
From the company's perspective, DevOps automation also helps the Salesforce team to reduce overall 'lead times', shortening the turnaround for the delivery of new features. A business that's using Salesforce to help produce, promote or process the sales of new products and services will value the faster time to market. But it could equally be the rapid implementation of internal operational workflows that is of high value and a priority for a company.
Change failure rates
Teams that release higher quality work into production save time that might have been spent on troubleshooting bugs and free themselves up for more value-generating work. A mature DevOps process helps teams to catch errors in advance thanks to automated testing, testing with real data, and validation of deployments. Keeping tabs on a DevOps performance metric like the 'change failure rate' isn't just about measuring the efficiency of the Salesforce team. Issues in production can result in expensive business downtime or disruption that teams with lower change failure rates are helping to avoid.
Time required to restore service
'Time required to restore service' is another performance metric that can be influenced to large a degree by a team's choice of DevOps tooling, which can help reduce both a team's 'time to discovery' and their 'time to recovery'. Gearset gives teams the capability to monitor changes made directly in production, with automated alerts that provide early warning of potential issues. If a new deployment to production has caused an error, rolling back the change is easily done from the team's deployment history within Gearset.
The choice of a backup and restore solution will also largely determine a team's time required to recover from a loss of business-critical data. Gearset's automated backups make sure that a copy of the latest records in Salesforce are available in the event of data loss. From the company's point of view, resilience in the event of an incident is always going to be important. For some sectors, strict security and compliance regulations mean backup systems need to be compliant if the business is to avoid potentially heavy fines.
From our industry survey results, we know that a significant proportion of Salesforce teams overestimate their ability to restore quickly from backups. In order to restore data, the relevant metadata housing the data records needs to be in place. If the metadata in the org has changed in the time it's taken to discover the data loss incident, both data and metadata need to be restored together. Restoring metadata alongside data is as easy as running a normal Gearset deployment. Gearset is unique in this regard because it allows teams to integrate their backup and restore functions into their everyday DevOps tool.
Benchmark your Salesforce team's performance
If you'd like more advice on how to benchmark your Salesforce team's performance, book a consultation with us today or reach out in the live chat on this page. We'd be more than happy to help you assess what DevOps process and capabilities would be the best fit for your organization. To get a broad overview of current trends and the DevOps performance of Salesforce teams across all industry sectors, download your free copy of our State of Salesforce DevOps 2021 industry report: