We were excited to see DevOps Center announced as a topic for one of the DreamTX sessions at this year's Dreamforce To You. Salesforce's DevOps Center promises to help teams of all technical abilities collaborate and manage their development pipelines using source control from within an easy-to-use Salesforce UI. We joined the session and were keen to hear the questions and answers about the project.
Over the past few months, we've been finding out everything we can about DevOps Center. We've already presented our exclusive take on this future addition to the range of DevOps options open to Salesforce teams. The DreamTX session confirmed much of our thinking about the features of DevOps Center, but also offered new information on the kind of Git-based workflow DevOps Center will support - from committing and pushing changes to Git, all the way through to releasing into production.
Tracking changes through the pipeline

DevOps Center will give admins and declarative developers an easy way to work from source control and collaborate with other developers on their team who make changes programmatically. Both declarative and code changes are committed to Git and can be tracked through the pipeline in DevOps Center. Once tested in a staging environment, teams will be able to "promote" their changes in DevOps Center to update their source of truth and deploy the changes to a production org.
Goodbye change sets?
Admins and teams who are still using change sets to migrate their work through to production are likely to see DevOps Center impact the way that they manage their releases. That's because DevOps Center will eventually subsume the functionality currently provided by change sets.
Salesforce doesn't have any immediate plans to retire change sets. But the company will look at possible retirement strategies once DevOps Center has reached functional parity with change sets. For this reason, there are no further enhancements planned for change sets. Any retirement plans would be communicated clearly by Salesforce and with plenty of advance notice for the community.
Git hosting platforms and CI/CD tool integrations
Initially, DevOps Center will integrate with GitHub. But, as Gearset has previously reported, Salesforce has plans to support Bitbucket, GitLab, Azure DevOps, and other third-party VCS providers. Support for Git repositories hosted on prem may be added in future too.
There are also plans for integrations with CI/CD tools, which will offer the option for scripting tests in the way that's already possible with SFDX. DevOps Center will have a CLI integration and won't replace the SFDX tooling because it's a tool aimed primarily at admins. It will allow admins to perform the same kind of operations as they currently do with change sets, except these will now take place within a source-controlled process.
The adoption of source control via DevOps Center means that declarative developers and programmatic developers using the same GitHub repo can integrate changes within the same DevOps Center environment. That said, any merge conflicts would have to be resolved in Git rather than in DevOps Center.
Like SFDX, DevOps Center offers a set of primary functionalities that are extended and complemented by comprehensive DevOps solutions like Gearset, which will continue to bridge the gaps.
Pricing and packaging
DevOps Center will be installed (probably into a DevHub org) as a managed package. Salesforce is planning to offer a paid as well as a free offering. Details on the pricing and packaging have yet to be confirmed. We expect DevOps Center to go into GA release in spring next year.
Want to know more about DevOps Center?
In one of our recent webinars presented by our co-founders, Kevin Boyle and Matt Dickens, we walk you through the context for why Salesforce is creating DevOps Center, explain some of the benefits it will offer teams of mixed technical abilities, and discuss the impact it's likely to have on Salesforce DevOps. You can watch the recording here: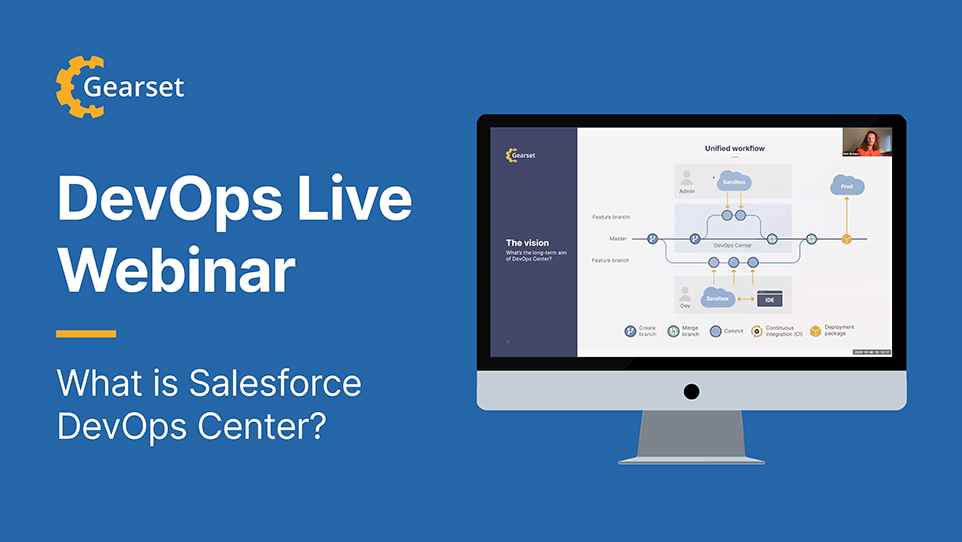 Let us know if you have any thoughts or questions about what DevOps Center could mean for your team's process. As always, we'd love to hear from you. Just reach out via the live chat on this page or send us a quick email.