Salesforce CPQ deployments are well known for being slow, difficult and error-prone. Many teams wrestle with templates, spreadsheets and scripts. Some even recreate configuration manually in the target org. But Gearset's CPQ solution offers a fundamentally different approach that makes the pain of CPQ a thing of the past.
A new approach to CPQ deployments
Gearset is known for providing an easy-to-use and effective Salesforce DevOps solution. Our 'compare and deploy' workflow makes metadata deployments intuitive, and our powerful problem analyzers find and fix issues that would cause your deployment to fail. Now we've built the same for CPQ, so CPQ deployments are just as intuitive as metadata deployments with Gearset.
Just as Gearset lets you view XML differences for standard metadata, we're now rendering CPQ differences in the same way, bringing unparalleled transparency and understanding to how CPQ configuration differs between orgs. Critically, Gearset will automatically manage deploying new CPQ records at deployment time, removing the need to manually maintain relationships.
Gearset's CPQ solution brings a number of significant benefits:
Gearset's 1-click external ID creation wizard for CPQ removes the need for Apex scripts and manual configuration of record IDs.
Our comparison filter lets you specify which CPQ objects you want to retrieve — reducing comparison time.
CPQ changes are displayed alongside your metadata — including all dependencies.
You can roll back changes made to existing CPQ configuration from a previous deployment.
Automated monitoring of changes in your org will include your CPQ configuration.
A full history of your CPQ deployments makes auditing straightforward.
How to use Gearset for CPQ
Run the external ID setup wizard
Before deploying CPQ configuration, you need to run Gearset's external ID setup wizard on both your source and target orgs. You only need to go through this process once, unless new objects are added.
Adding the external ID is a simple, automated process, which prevents duplicate records from being created. It also enables rollbacks of changed CPQ items. The external ID doesn't interfere with any existing external ID fields you may already have.
You can enter the setup wizard from the list of your connected Salesforce orgs. Or, when you first try to compare an org that has CPQ enabled, Gearset will detect this automatically and prompt you to begin the setup process. Just click Run setup to begin.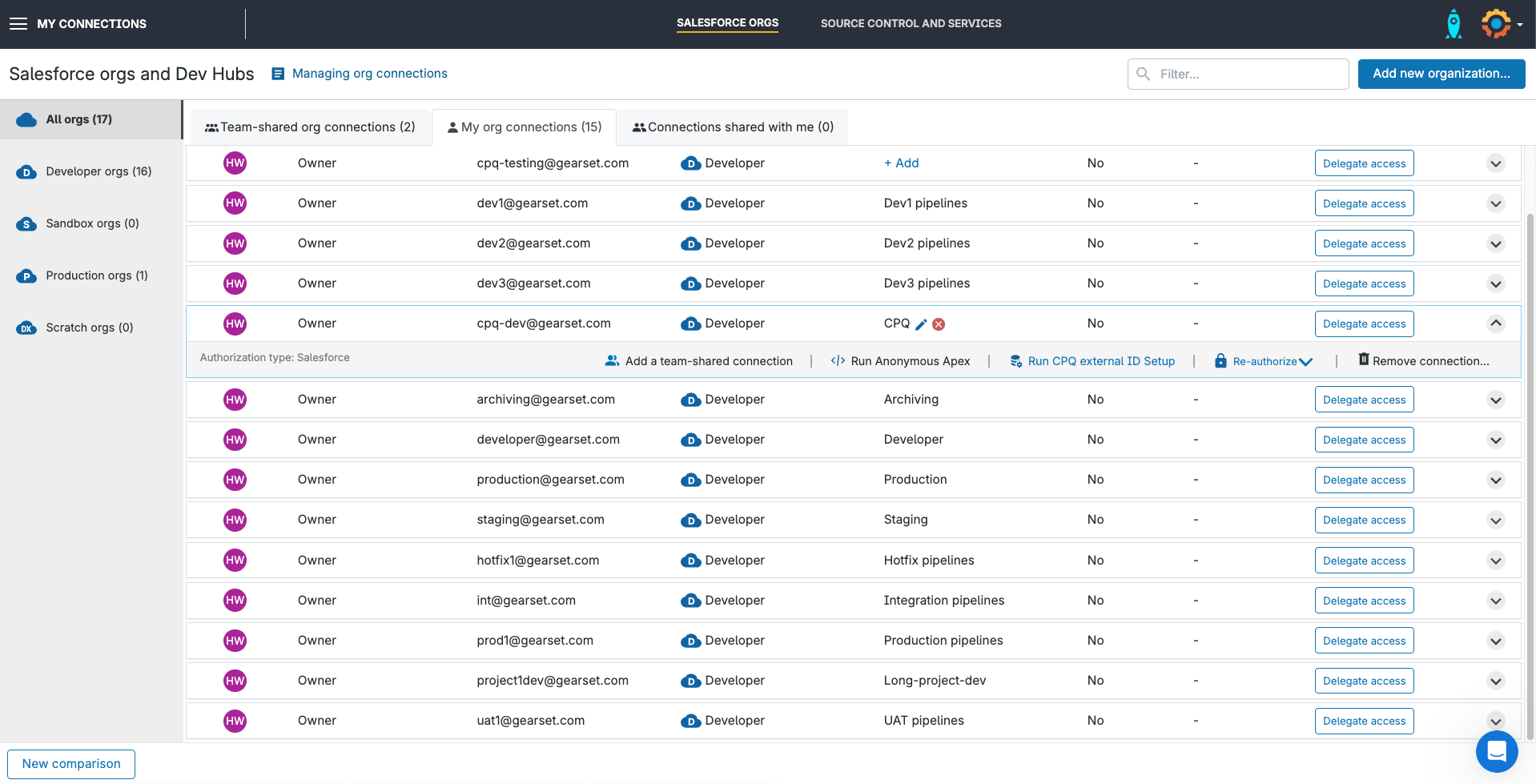 You should disable any validation rules or triggers before starting, because they may cause the external ID creation process to fail. Then click Create Gearset external IDs.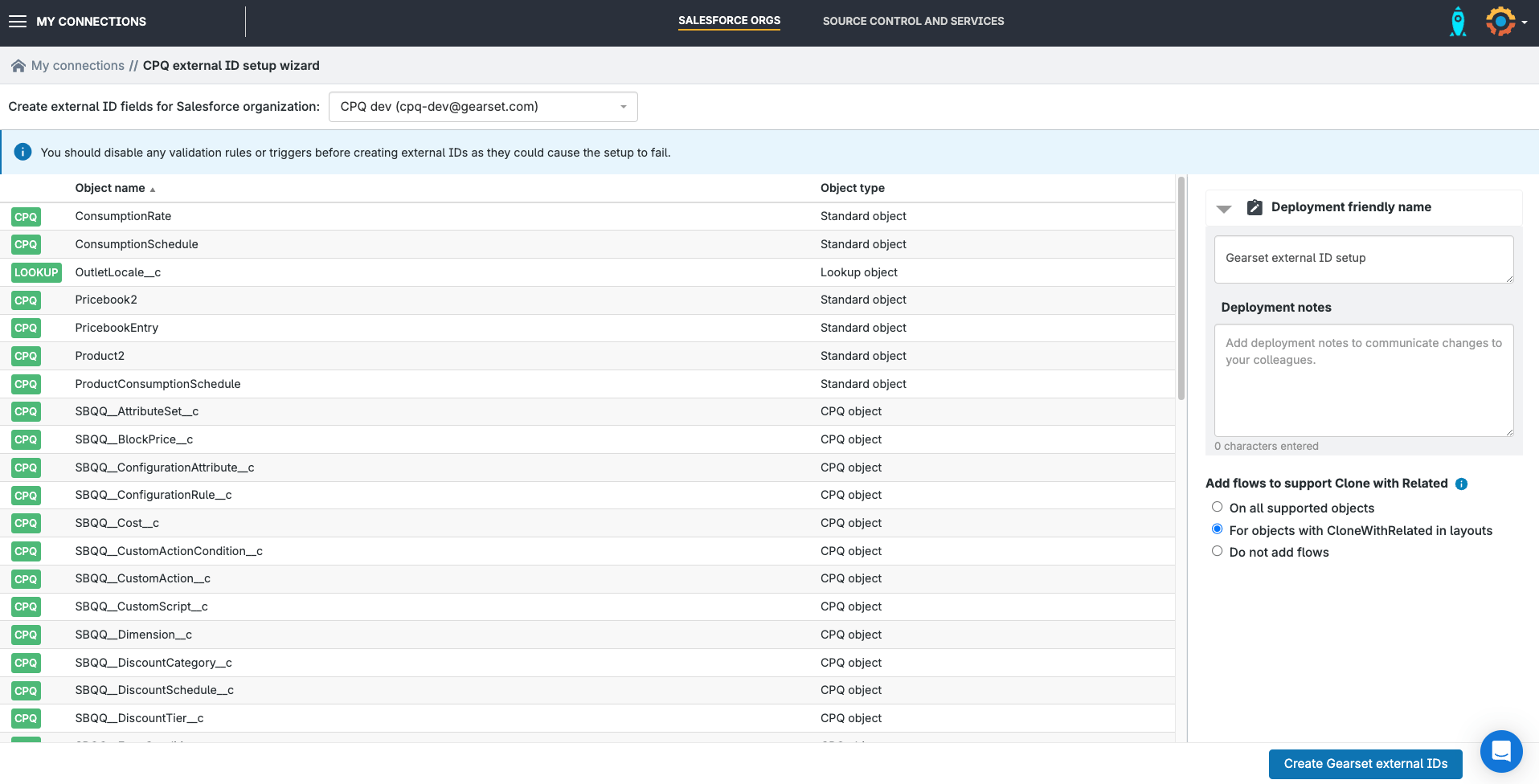 Gearset automatically runs the external ID setup in three steps:
Step 1: Gearset checks the org to make sure Gearset's external ID field can be added.
Step 2: A metadata deployment adds the external ID field to your CPQ and related objects.
Step 3: Gearset will then populate those external ID fields that were added in step 2. Gearset will derive its external ID value from the existing Salesforce record ID.
The deployment success page will confirm that the external ID setup wizard has run successfully.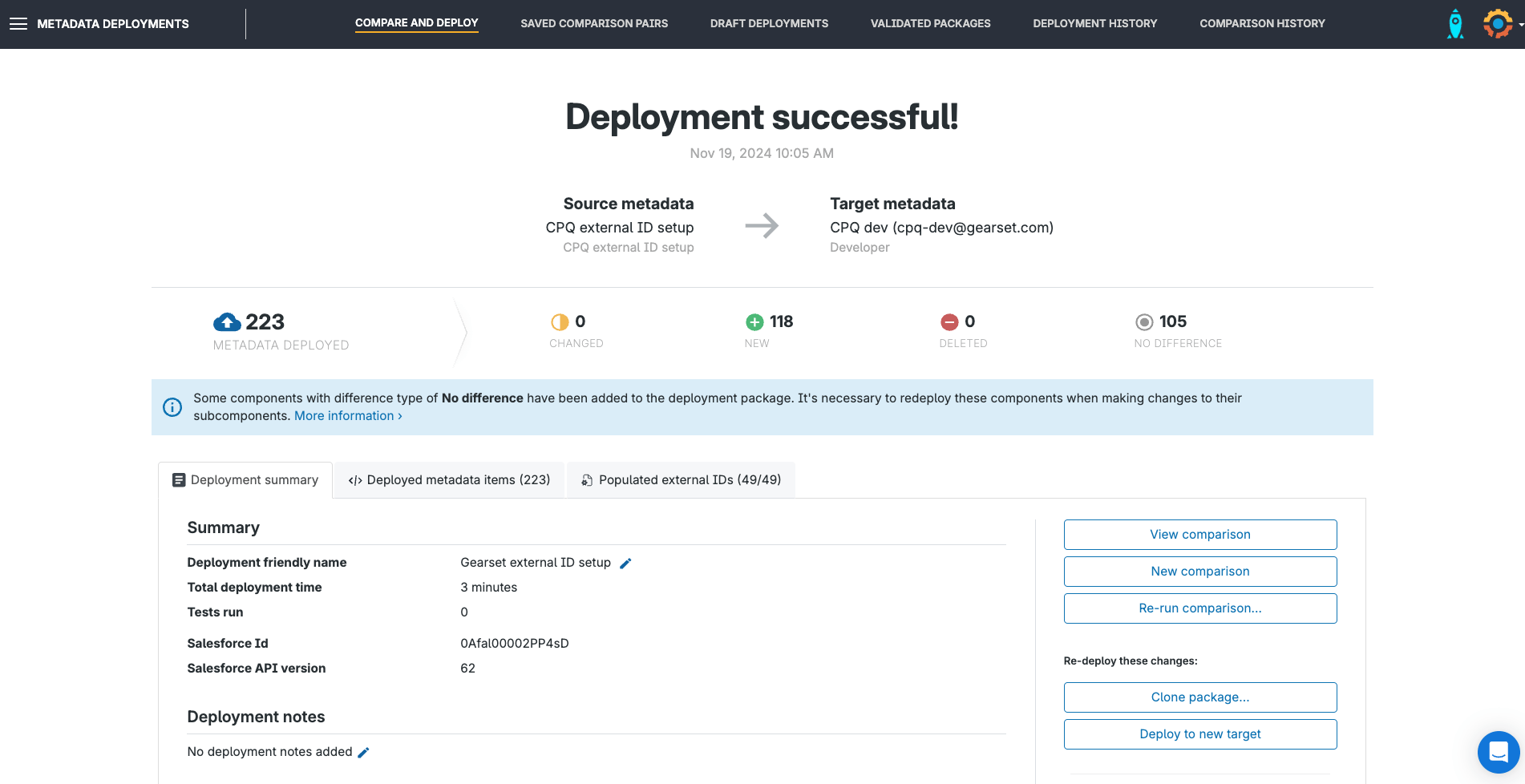 Configure your CPQ comparison
Once the external ID setup has been run on the source and target org, you're ready to begin comparing and deploying your CPQ configuration!
The first step is to choose the CPQ objects and related metadata that you want to compare and deploy. You can do this via the metadata filter, which you'll find from the Compare and deploy page as a dropdown next to the Compare Now button.
You can use the Standard CPQ filter, or configure your own by selecting specific metadata types and CPQ objects to compare and deploy. At minimum, you'll need to include the following:
The SBQQ managed package, which you select from the Include managed packages section
The CPQ objects that you want to compare and deploy — these are listed on the CPQ tab
From the Metadata tab, any releated Salesforce metadata that your CPQ configuration may depend on — most likely including Custom object, Global value set, Profiles and Global picklist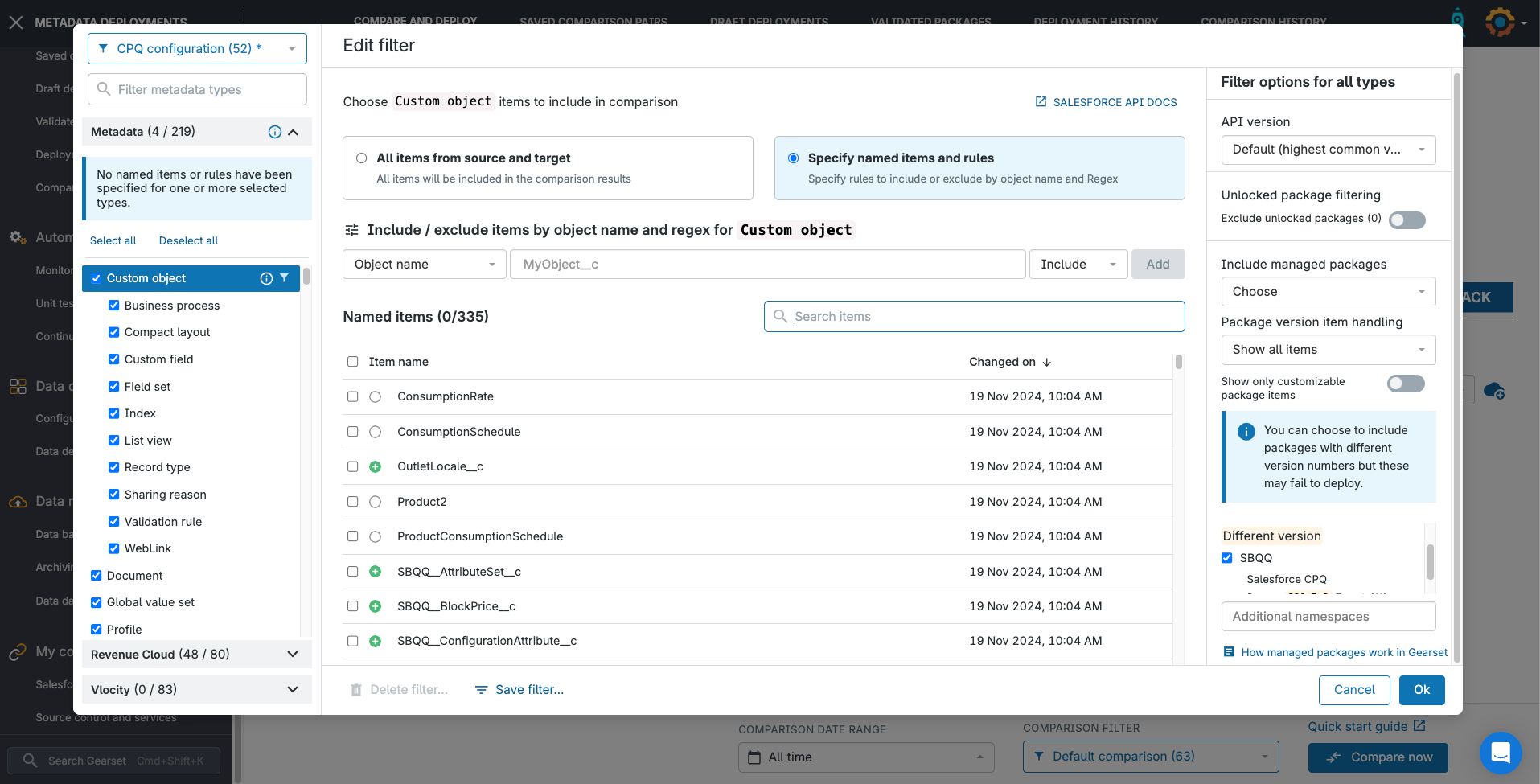 With the filter correctly set up for CPQ, you can hit Compare now. Gearset will pull in the metadata and CPQ configuration to compare from your orgs.
Build your CPQ deployment package
CPQ configuration is displayed in the comparison results grid, just like Salesforce metadata. You can select and deploy both metadata and CPQ configuration as part of the same deployment package.
CPQ items are indicated in the metadata type column using the CPQ prefix, e.g. CPQ product, CPQ template, CPQ product options, etc. Expanding a CPQ item in the comparison results will show you any dependencies for that item, which you'll want to include in your deployment.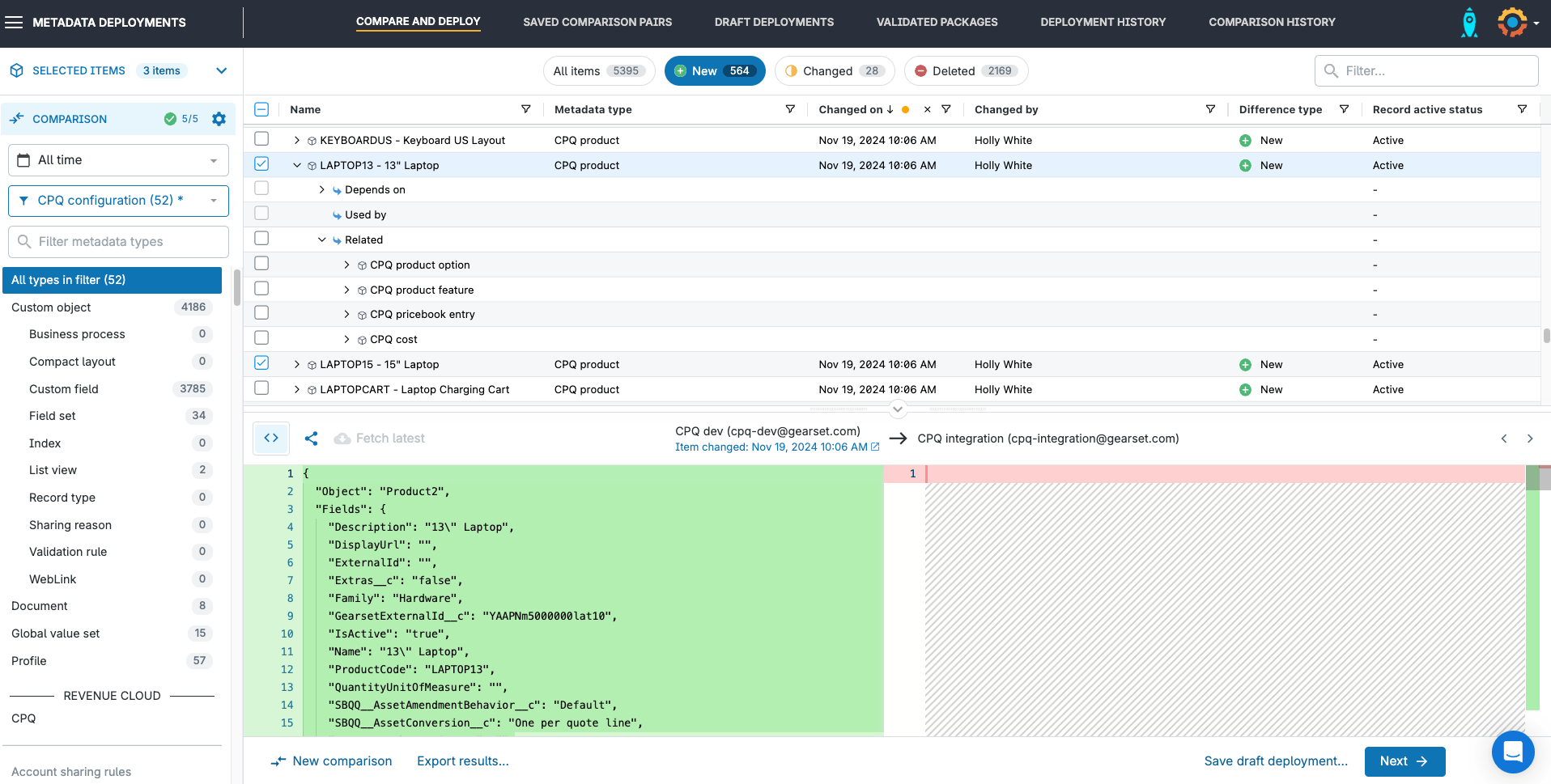 Gearset will automatically handle the population of the record ID for any new item you deploy, as part of the final deployment process.
Deploy CPQ more successfully
As with any deployment, Gearset will detect common issues that may cause your deployment to fail, such as missing dependencies.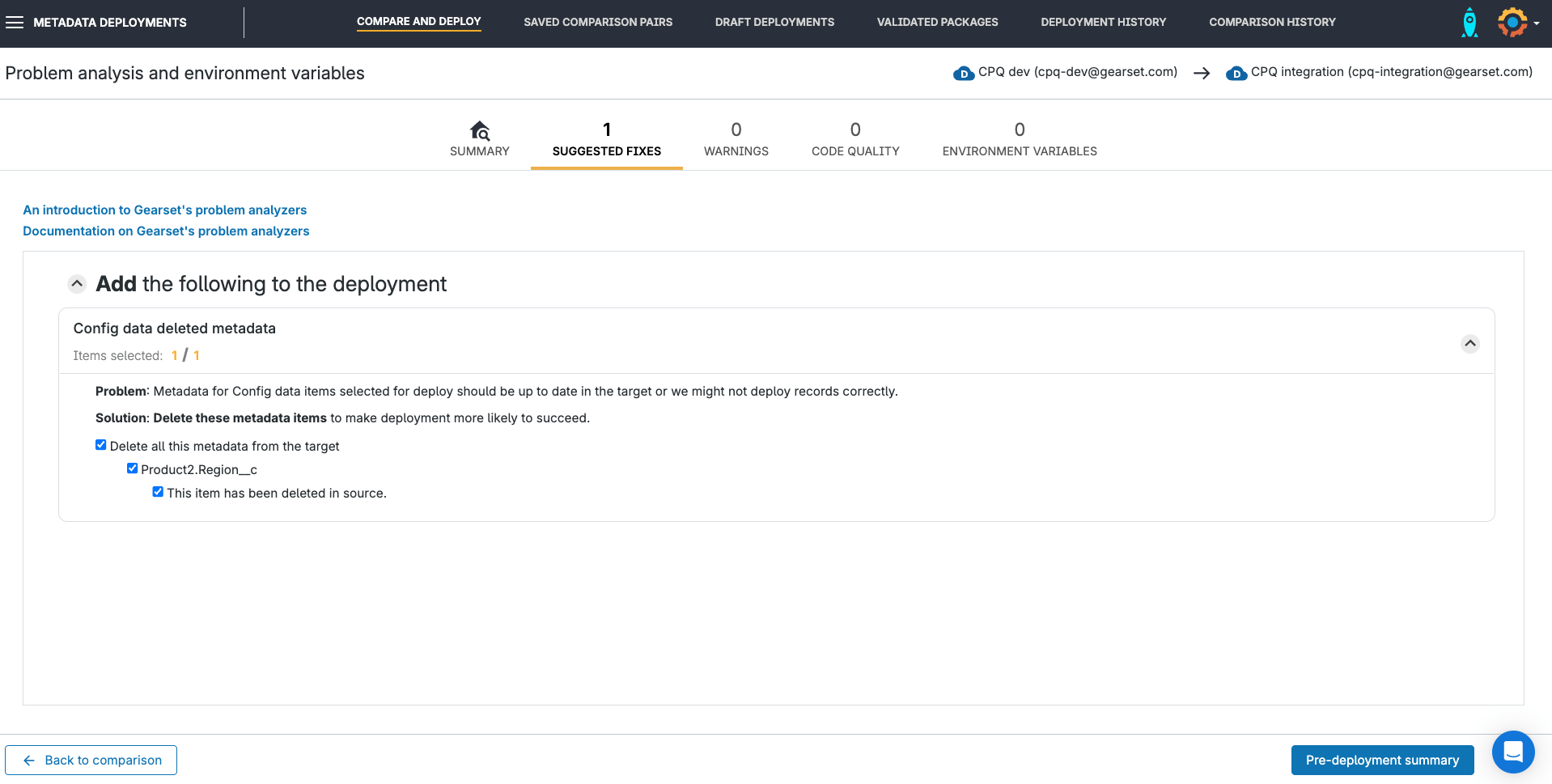 The pre-deployment summary shows you the full list of CPQ and any metadata items being deployed, including any that have been added by Gearset's problem analyzers. You can add a name and deployment notes for the deployment — these will appear in your metadata deployment history.
When you're happy that the deployment package looks right, hit Deploy now.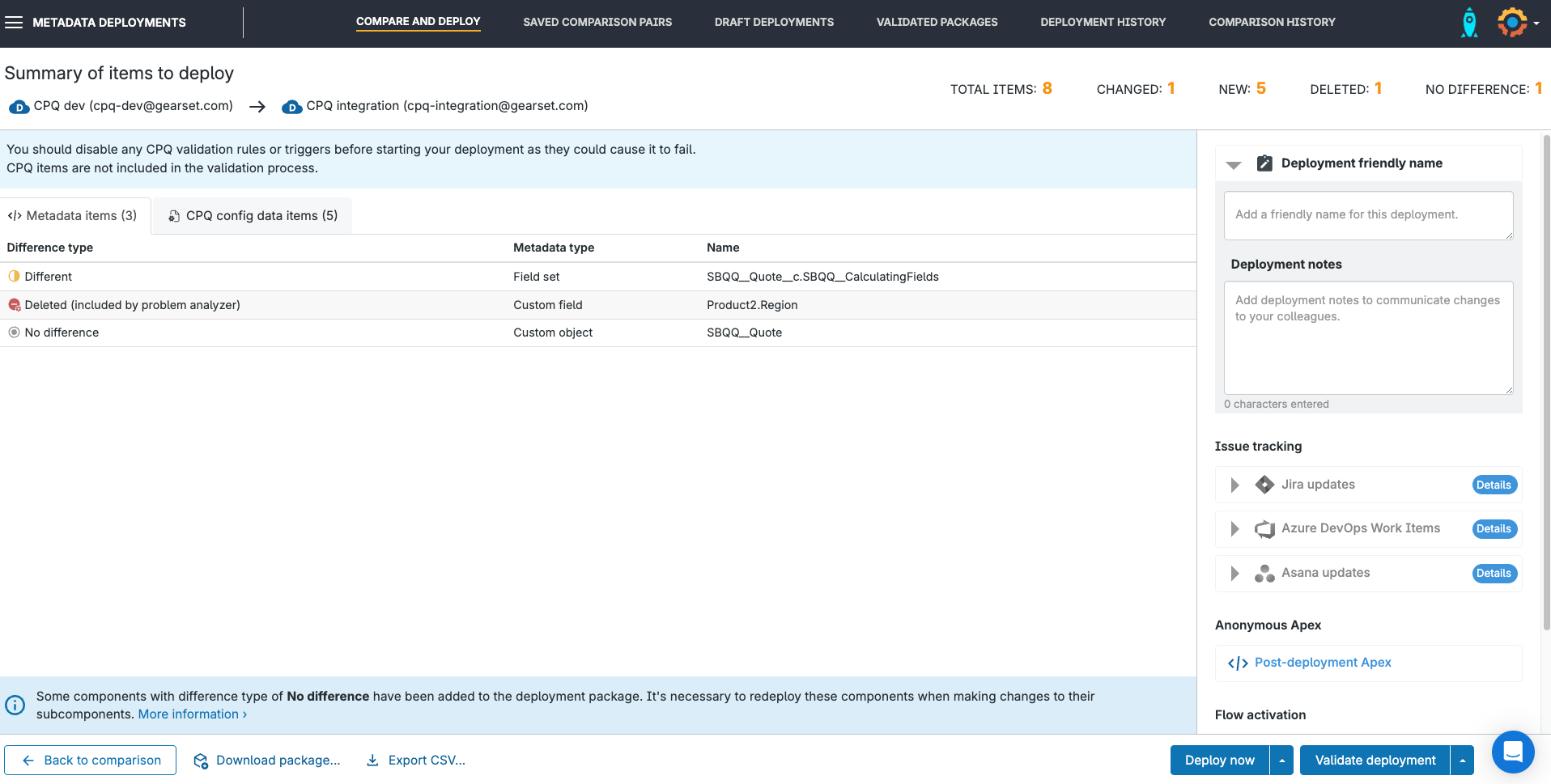 Gearset will deploy any metadata included in the deployment package first. Should this metadata deployment fail, Gearset will stop the deployment and roll back any metadata changes. This makes sure your Salesforce org is left in its original state, and no CPQ deployment will be attempted. Once the metadata has been deployed successfully, and any tests on the deployment have passed, your CPQ configuration will be deployed.
On the Deployment success page you'll see the summary of items deployed, with a direct link to each record in the target org. The deployment will also be added to your history.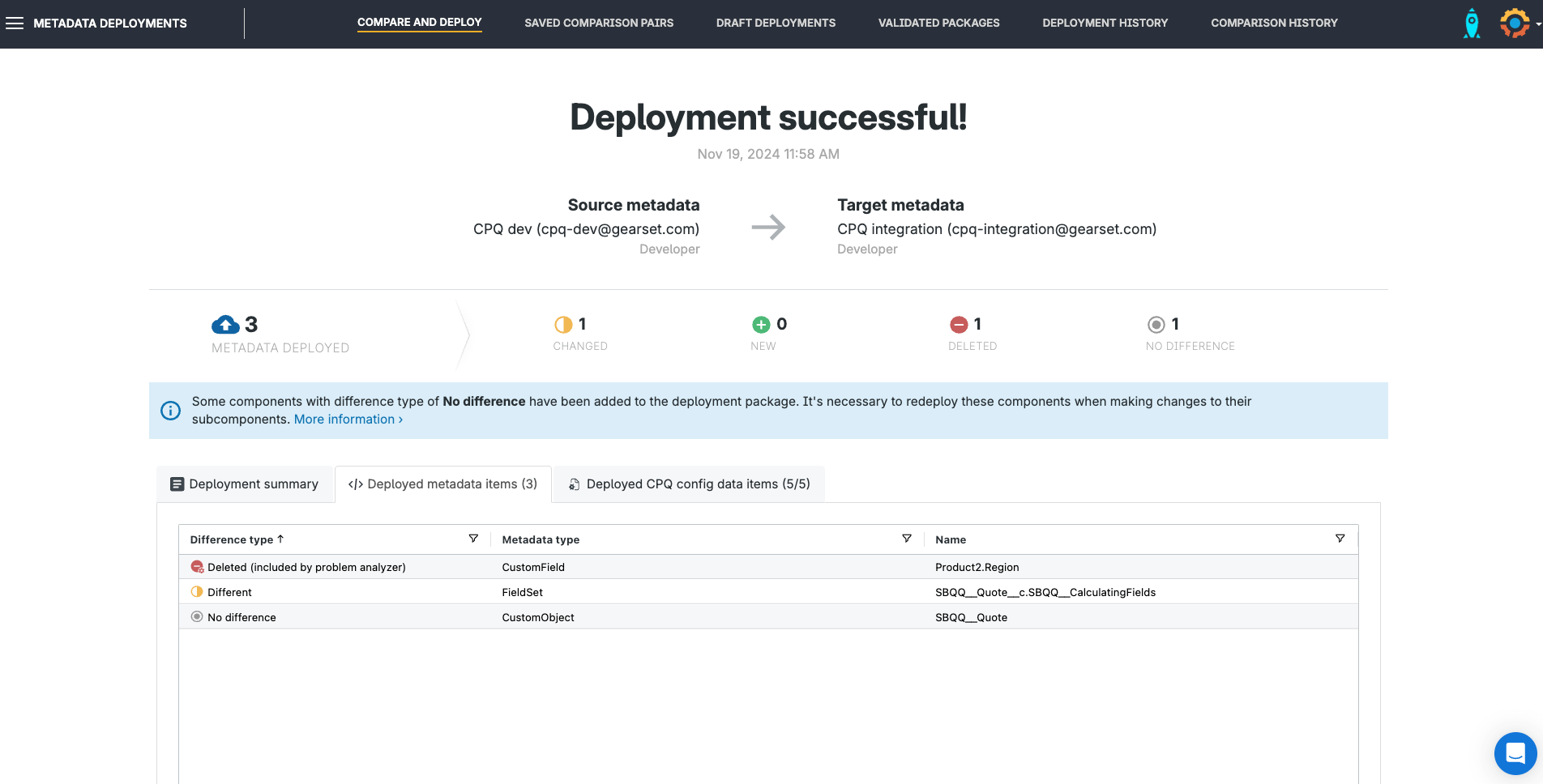 Try Gearset for CPQ
This new workflow for CPQ deployments is a real departure from more traditional approaches, dramatically reducing the time and effort wasted on releasing your latest changes. Gearset's free 30-day trial includes full access to CPQ deployments, so you can try it for yourself. It's always great to hear how you're getting on — so reach out via the live chat if you want to talk to us about your CPQ deployments.