Gearset have been crowned the winners of the Best Companies Special Learning and Development Award 2022! The recognition of winning an award is always great but this award was based on feedback from our employees, which makes it even more special.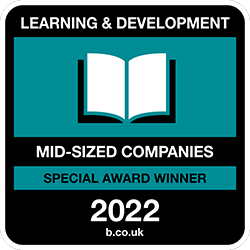 At Gearset, learning and development isn't just something that sits in a siloed area, it's part of who we are. Learning and development shows up through one of our core values: 'embracing discomfort'. This encourages all Gearsetters to grow through taking new opportunities available to them. It also shows up in our safe environment, where we help each other improve, grow, and learn every day through our strong feedback culture and our focus on collaboration.
On that note, here's a snapshot of some of the initiatives we run at Gearset — to give you a flavour of what award-winning learning and development looks like to us.
Feedback culture
We have a strong focus on continuous, constructive feedback at Gearset, because we know it helps us all reach our full potential. Feedback routinely comes through each employees' 1:1 with their line manager, which we encourage to be direct, in the moment, and peer-to-peer. People in all roles at the company take part in 360° feedback — so much so, it's become a natural part of how we work. It allows everyone to have the opportunity to share their knowledge and advice.
There are no painful end of year meetings, as is the case in many companies, where employees only have one chance each year to get feedback on how they're performing and how to improve. Instead, we encourage monthly check-ins where folks can talk to their managers about their development and ambitions. This makes sure we're spotting opportunities for people to work in new areas, or take part in training that will help them to develop in the areas they want to focus.
Quarterly check-ins
At the end of every quarter each team carries out a quarterly review of what they've achieved and what they'd like to do for the next quarter. This is then presented to the wider company, giving a great opportunity for input and questions from people outside of their team, including the executive team. This allows Gearset to continuously share expertise across the company, encourage improvement in each quarter, and ensure we all learn about the great initiatives happening across every team.
Personal development
We introduced personal development plans for folks to use if they find them useful. These are a tool to help people self-reflect and guide their own development. They provide an opportunity to work with their managers to identify both their skills and any gaps, as well as set goals and create a plan of how to achieve them. This works really well at Gearset, where the work and growth is fast paced, enabling us to support development around the exciting new projects and roles that are continually popping up.
We provide a personal learning budget of £1,500 ($2,000 for US folks) per team member per year that's dedicated to fund their development. This can be used for anything to help a team member develop and on the type of content that suits them most, including courses, events, books, and online learning. There's also team specific training in different areas, including sales training for people at any level, as well as product training for everyone in the company and a product management training programme for our new product management function.
Internship programme
We know what a good internship looks like — lots of our own developers started out as interns. We strongly believe that internships should be about doing real work and making a real difference from day one, not watching other people do things. At Gearset, our interns are fully fledged members of the team and work on real features, projects, and work — all interns impact the business from the start.
Supporting aspiring managers
For folks that aspire to be a people manager at Gearset, they have the opportunity to develop in their current role to allow them to build on their skills and make sure it's something they enjoy doing by testing the waters. We offer opportunities to mentor new starters, manage interns, and get involved with interviewing across the business, which is what helps build the skills needed to become great managers.
Management development
Everyone in a management role takes part in formal leadership training, to allow them to better understand their role and themselves as managers. We have been focusing on delivering leadership training for those new to the role, but our training doesn't stop there. We believe there should be continuous learning and development for all our managers, encouraging them to develop the key skills to be able to support and influence others effectively, and to develop, coach and provide effective feedback to their team.
We offer further developmental training to managers, specifically covering how to have powerful conversations, and the difference between directive and non-directive approaches. This encourages our managers to best support their team, largely through building their coaching skills to help them to have more developmental conversations with their team members.
Off the back of this training, it was great to see new managers set up their own self-led peer group sessions, in which they share their challenges, discuss their own practices and continue to learn from each other. This has given them support outside their immediate team and manager, and means they learn and grow together.
Support across all teams
Learning and development truly is at the heart of our organisation. We're constantly looking for ways to support everyone across Gearset with their development. Folks of all levels are always looking for opportunities to improve and grow, and how to help their teammates do the same. Having this proactive focus on learning and development across the company means we grow together to deliver the best work we can, which is really important to help us deliver the most value for our customers.
We're really proud of the learning and development culture we've built at Gearset so far — and like everything we do, we'll keep looking for ways to improve and iterate as we grow as a company, to make sure we're doing everything we can to develop and grow our team too.