Despite Salesforce's clear recommendation to invest in a third-party backup solution, many businesses still use Data Export to create backups of their Salesforce data. Gearset's State of Salesforce DevOps 2023 report reveals that while 86% of businesses have a backup solution, 11% back up their orgs using Data Export or a similar tool. But Data Export falls short in several ways as a tool for any backup and restore operation, let alone for disaster recovery.
Backups are only useful if you can restore the data
Exporting backup data is just one part of a viable strategy for protecting, managing and restoring your business-critical data. The most important test of any backup strategy is your ability to restore data. Can you restore data accurately from your backups? How long does it take your team to restore? And how much of the data can you restore successfully?
Your ability to restore data quickly and accurately depends on your ability to restore metadata as well as data - something teams often overlook. You need metadata backups, not just because the configuration described by metadata is valuable, but because it's needed to make sure you can restore data. Records can't be restored to fields and objects that no longer exist or have been altered.
Data Export doesn't provide metadata backups. It only generates CSV files of your data, which you can then store as backups. Trying to restore data without a metadata backup normally involves recreating metadata first to prepare the org, and this massively delays data recovery. If it proves difficult to get the org's metadata back into the shape it was in when your data was backed up, you may not be able to restore the data at all.
Gearset's backup solution backs up both data and metadata every time a backup job runs. Whether you've lost a handful of records that you can't find in Salesforce's recycle bin, or an entire object has blown up with all of its fields, records and relationships, Gearset has you covered.
An expert evaluation of Data Export
Eric Kintzer, Salesforce Architect at Helix and one of Gearset's community advisors, has first-hand experience of using Data Export for backups in the past. He shared this assessment of trying to restore data from the CSVs it provides:
"Restoring data from CSVs is exceptionally difficult, especially when relationships are involved - intermediate VLOOKUP Excel columns to reconstruct relationships may be needed. The CSVs are large and hard to manipulate in Excel due to memory limits or row limits, and an object might span multiple CSVs. Restoring files or attachments is especially time-consuming."
Eric went on to explain how easy it can be to corrupt backup data when trying to restore: "If you open a CSV in Excel and edit it, you are almost guaranteed to get data corruption when you save the file. For example, a zip code such as 01234 will be saved as 1234, dates may not save in ISO format, and Excel tends to mess up fields with embedded line breaks - all of which makes these records unrestorable."
In summary, Data Export is just not fit for purpose when it comes to restoring your org. Eric recommends that every company test their restore capabilities to get a true understanding of their vulnerability in the event of any data loss: "A company relying on Data Export is merely checking a box that they have a backup strategy; it is highly unlikely they have ever tested a restore from Data Export and are blithely hoping they will never have to."
Data Export limits how often you can back up data
Effective disaster recovery isn't just about how quickly you can restore data - your recovery time objective (RTO). It also depends on how recently you've last backed up data - your recovery point objective (RPO). Restoring outdated data isn't good enough, so most businesses want an RPO of 24 hours or under - in other words, you need to back up your data and metadata every day.
With Data Export, you can only export your data once a week at most. And if you're using a Professional Edition org, you can't export data more than once a month. What's more, Salesforce itself warns that a scheduled export can be delayed by as much as one week, sitting in a queue for delivery due to heavy traffic. The Data Export backups have to be manually downloaded, one zip file at a time from Salesforce to your local file system. This imposes a burden on the system administrator who has to baby sit perhaps dozens of download tasks, hoping not to forget any.
In contrast, Gearset generates daily backups automatically and efficiently. That's at the very least; if you have certain objects that are constantly changing and so need an even more stringent RPO, no problem! You can use Gearset's high-frequency backup jobs that run every hour. Consider how much data is added to your org in a typical month - or even in the average week. Can you afford to lose that data?
Data Export creates a security and compliance headache
Data Export leaves you to manage your backup data yourself, once the CSV files have been delivered. Incidentally, this means that using Data Export isn't cost-free, because the expense of storing, protecting and managing backup data falls to your business.
You're taking all data security and compliance responsibilities in-house, with all the associated risks. For example, if you need to comply with data protection regulations such as the GDPR, CCPA, or SOX, you'll have to have answers and solutions to the following problems:
Who will have access to the backup data?
How will the data, especially personally identifiable information (PII), be kept secure?
How long will you keep backup data for?
If a customer invokes their right to be forgotten, how will you purge their records from all of your backup files?
These are difficult and often costly problems to solve, and dealing with backup data in-house makes you liable for them.
A trusted and well-designed backup solution takes the pain out of security and compliance. When you use Gearset for backups, your data is encrypted in transit and at rest for enterprise-grade security, and stored on Gearset's servers in the same AWS data centers used by Salesforce.
Gearset's backup solution gives you a configurable permissions model for data backup jobs, so you can manage who has access to each part of the backup job's functionality. This keeps backup data secure, but means it's easy to delegate access if and when needed during a restore scenario.
With Gearset, you also get all the tools you need for compliance with data protection legislation and internal data management policies. You can configure a retention policy for your backups, and if anyone requests that their data be deleted, you can easily purge their individual records from all backups.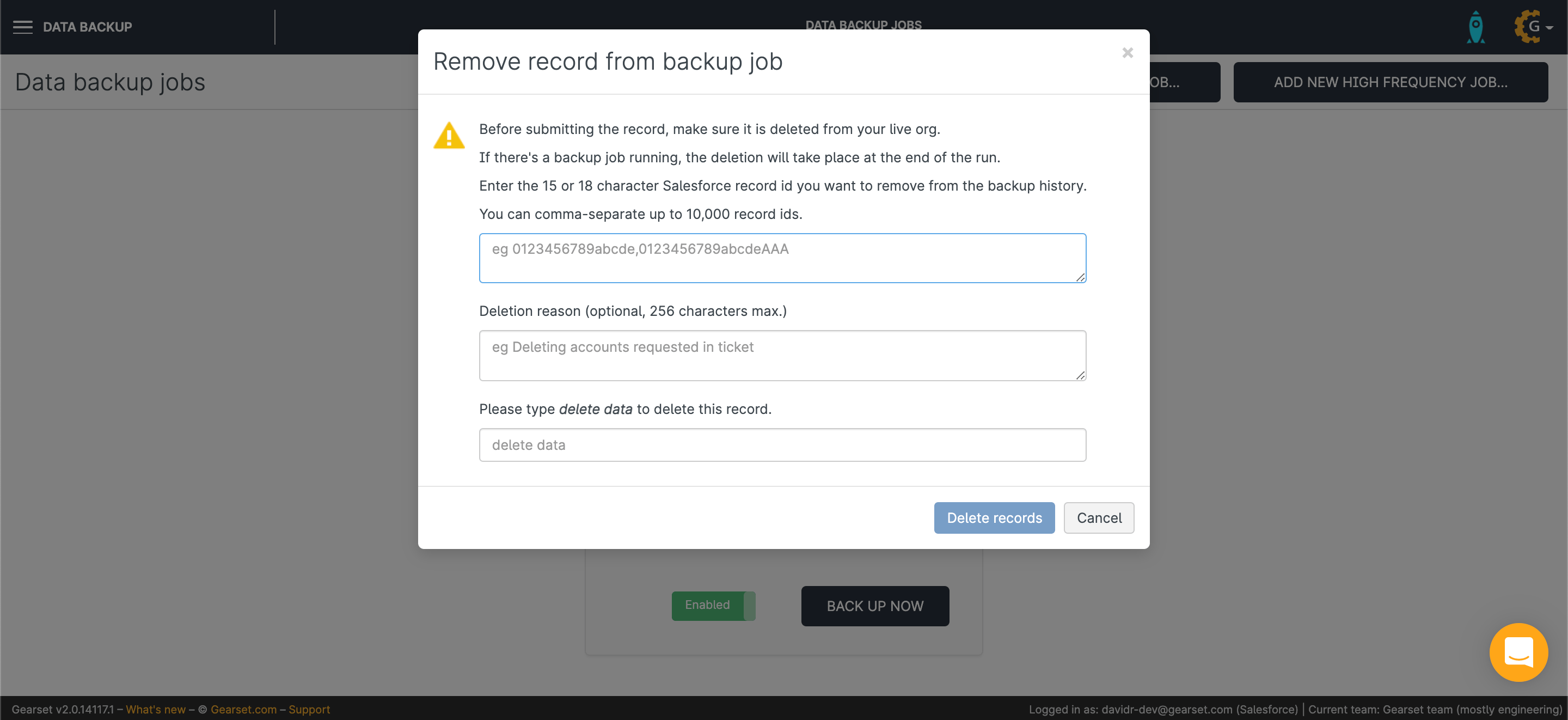 Are you prepared for data loss?
The majority (76%) of respondents to Gearset's State of Salesforce DevOps 2023 survey said they suffered a data or metadata loss incident in the last year. Businesses are recognizing both the importance of backups for Salesforce and the need for a robust backup solution built specifically for Salesforce so it can handle all the platform's quirks for migrating data and metadata.
Being prepared for data loss and disaster recovery is absolutely critical. And using Data Export just isn't the way to go for safeguarding your data and ensuring business continuity in the event of a data loss. Where Data Export falls down, Gearset's powerful backup solution provides everything you need for a secure, reliable and compliant backup strategy.
Come along to the backup webinar or download our free backup ebook
If you're searching for a backup solution or preparing to implement one, weighing up the costs is a key concern. Come along to our free webinar on August 23rd 2023 for an insight into the costs and ROI of backup.
Want to know more about backing up Salesforce? Download our free ebook, Backups for Salesforce to get a complete overview of the risks of data and metadata loss — and what options businesses have to mitigate them.