Back in January this year, we made it possible for users with GitHub accounts to create pull requests in GitHub without leaving Gearset's user interface. Now we know plenty of folks who prefer Bitbucket for version control - often it's because of the platform's tight integration with Jira. But, whatever your preference, Gearset plays nice with all major Git platforms! So, really, it was just a matter of time before the requests for the same functionality for Bitbucket were coming in thick and fast, too.
Keep your deployments flowing
If you've set up a Bitbucket connection on the Manage source control and Jira page, you can now create pull requests from within Gearset. After each successful deployment to a feature branch of your Bitbucket repository, there's now a link to open a PR. This saves you the hassle of switching out to Bitbucket every time you run a deployment. Perhaps even more usefully, people on your team without Bitbucket experience can now fire off PRs as well, with a single click in Gearset's UI.
How to create a PR in Bitbucket
Once you've successfully deployed your work to a development branch on your Bitbucket repo, you can open a PR by clicking Create pull request from the Deployment successful page.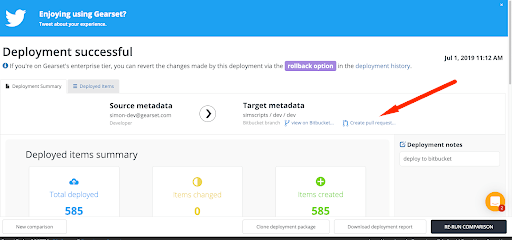 When you click on the link, Gearset prepares a PR based on the branch you selected for the deployment. Give your PR a name and select your target: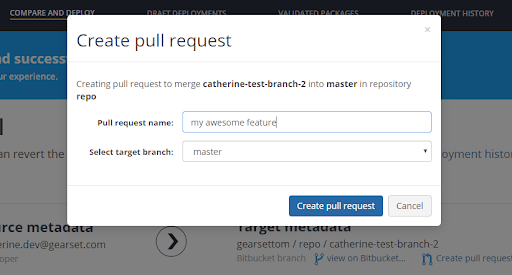 Gearset fetches the full list of available branches in the repository so that you can choose your target branch. If the repo has a master branch, Gearset will use the master as the default target. Now select your target and hit Create pull request: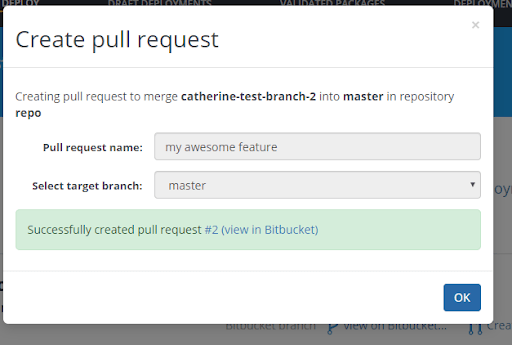 Gearset lets you know that it's created the PR. It also gives you a link to view the PR in Bitbucket. Try it out and follow the link to see the PR: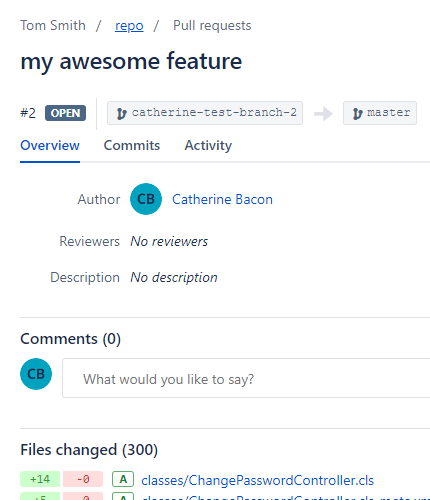 Git, Gearset and version control for Salesforce
If you'd like to know more about working with Git and Gearset, check out our whitepaper on Version control for Salesforce. The whitepaper offers best-practice advice on setting up Git-based workflows for modern Salesforce release management. It discusses typical Git workflows for feature development and bug fixes. Alternatively, why not watch the recording of our recent webinar on getting started with version control for Salesforce teams?
Use Bitbucket with Gearset
See how Gearset seamlessly integrates with Bitbucket by signing up for your free trial today.