Anyone familiar with B2B SaaS companies is likely to have come across a number of CSMs. But in some quarters the role is relatively new, and it's still common to come across misconceptions about the part CSMs have to play in their customers' journey. In case of doubt, we're talking here about Customer Success Managers - not Certified Scrum Masters!
In this post, I'll explain how Gearset sees the CSM role, what you can expect from your CSM, and why we place so much value on this function.
What is a CSM?
A Customer Success Manager proactively engages with customers, helping them to make the most of their products and improve their performance over time. This makes CSMs distinct from Account Managers, as CSMs give their customers ongoing strategic support rather than focusing on renewals alone. CSMs also have a different function than customer support - a common misunderstanding about the role.
At Gearset, we have a truly amazing customer support team. Our average response time is under 3 minutes, and we have a 98% satisfaction rating for interactions on our live chat. Our Customer Support Engineers are expert at handling any and every issue that comes their way, helping admins and developers to troubleshoot their Salesforce deployments, whether they need help understanding the quirks of Salesforce's Metadata API or just need some guidance navigating Gearset's UI.
Our CSEs do vitally important work and they are there to support all of Gearset's customers and trialists. But the CSM role is different. As you look to implement DevOps for Salesforce, your CSM will assist you in identifying long-term objectives for your business and advising how best to achieve those outcomes.
Strategic coordination
CSMs are your strategic point of contact within Gearset, and will work with you across every stage of your journey with us. Like you, your CSM wants to see you succeed in maturing into Salesforce DevOps with improvements in your development and release process over time. To ensure this happens, your CSM will proactively partner with you to identify key areas of focus, co-author a plan to achieve those improvements and provide assurances for delivery.
Your CSM will also coordinate a team of experts within Gearset, pulling together relevant people based on your requirements. For example, they might arrange time with our Product and Engineering teams, onboarding experts, or DevOps transformation advisors. Your CSM will actively track your progress and reach out to assist whenever they can offer support, not just at renewal.
Expert advisors
Salesforce teams can quickly adopt DevOps tools and processes. But getting buy-in from the team, bedding in new processes and building a DevOps culture takes time. Your Gearset CSM will guide you on the journey. While there isn't any one workflow that works for every team, Gearset will make recommendations based on best practice and our experience working with hundreds of teams like yours. There's a logical sequence of steps that teams should follow when implementing DevOps, and we've charted that course in our maturity matrix.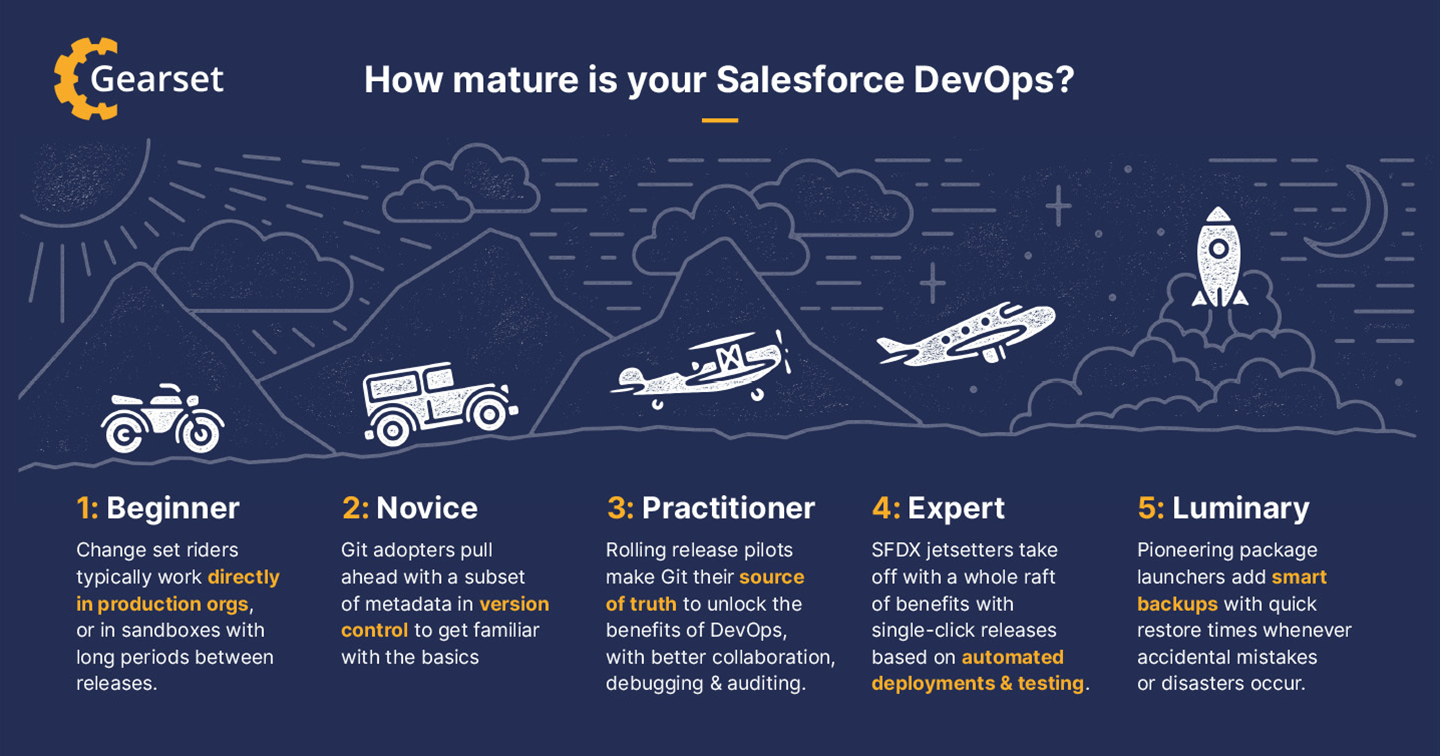 Gearset's own roadmap is user-driven, and your CSM will be happy to hear your feature requests. CSMs will dig into all of your use cases to get a deep understanding of your process and problems. Sometimes they can advise on a best-practice approach that solves the issue your team is facing. Where there's a way Gearset can be developed to support a new approach that works well for teams, your CSM will act as your champion internally and loop in our software engineers. Gearset has delivered on hundreds of feature requests direct from our users, and releases a constant stream of improvements up to three times a day.
Managing customers' success
Perhaps the best way to summarize the CSM's role is by unpacking the job title: we're here to manage our customers' success. Whatever it takes, we'll help you to deliver on the promise of DevOps for Salesforce. We'll support you to establish your DevOps strategy, map out the journey and guide you along the way.
Achieving DevOps success will go hand in hand with expanding your use of Gearset, and this falls within the remit of your CSM. As a trusted partner, they are best placed to advise you on the licenses you need to meet your DevOps goals and unlock even more Salesforce ROI.
Gearset's approach has always been to stay close to our users, so we deeply understand their workflows, opportunities and challenges. Everyone at Gearset, regardless of their role, regularly speaks with users so we always keep touch with our amazing community. Within that model, the CSM is an especially important figure as a constant companion for customers.
Stay in touch!
As well as providing you with a complete DevOps solution, with all the tools you need for development and releases on the Salesforce platform, Gearset will support you to maximize the value you get from those tools. The last few years have seen more and more teams move to adopt DevOps, and Gearset has been at the forefront of that transition, leading the ecosystem towards highly automated, source-driven workflows.
If you need any help understanding or implementing DevOps practices, or just want to give us feedback on how you've found working with your CSM, get in touch via the live chat on this page. We always love hearing from you!