Scheduling Salesforce deployments is a great way to streamline your release management and enable a more Agile workflow. With Gearset's new deployment scheduling, it's incredibly easy to test changes and release them at a time that suits you.
Automation is a time-saver
It's common practice in Salesforce to prepare and test your deployment packages prior to release. It's particularly important if the deployment includes a complex change or is impacting a large number of users. Deployment preparation allows you to thoroughly test your changes, prepare any documentation, and communicate with your stakeholders to ensure a smooth release process. Once the preparation is complete, all that remains is running the final deployment.
As part of our ongoing drive to simplify of Salesforce change management, Gearset now allows you to easily schedule your deployments to run whenever you need them. Combined with our deployment validation and unit testing, you can build and deploy packages faster than ever and schedule them to release whenever you need, all while maintaining your success rate.
Scheduling an automated deployment with Gearset
1. Once you've selected the changes you want to deploy between your orgs, click "Validate deployment" to create a Validated Package

2. The package will now appear in your Validated Packages history

3. Click Schedule deployment, under the "Actions" column. Choose the date and time for the deployment to run, and click Save. That's it!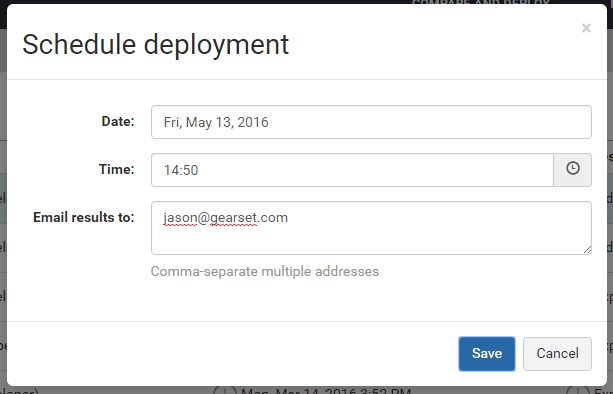 4. The package status will update to show the scheduled deployment time. Gearset will automatically start the deployment at the scheduled time and notify you of the result

Tip: If you want to schedule the deployment immediately after validating the package, you can also click the "Schedule deployment" button on the package validation success page. You'll be able to view and edit the schedule details in your Validated Package history later.
FAQs
Can I edit the scheduled deployment time?
Yes. Click the Schedule deployment button for any scheduled package to edit the start time and date. If you want to remove the scheduled deployment, click the red cross next to the scheduled time.
Will I get notified of the deployment result?
Yes. You'll receive a deployment summary by email, and the full report will be saved into your deployment history.
Can I schedule a deployment package without validating it?
No. One of the benefits of scheduled deployments is they can be run when no-one is there to oversee the process. To realize this benefit, you need to be confident the deployment will succeed. Validating your package provides that confidence, as well as being good practice for any release process.
What happens if the deployment fails?
In the unlikely event of a scheduled deployment failure, you'll receive an email letting you know something went wrong. The email will contain a link to the deployment failure report, from where you can find and fix the errors in your package, and re-validate it.
What time zone are the deployments scheduled in?
All scheduling is done in the time zone set in your Gearset account page.
Streamline your release management
Without scheduled deployments, Salesforce teams find themselves working outside of their hours to manage a release — adding unnecessary stress and pain to releases. With Gearset's scheduled deployments teams regain control, knowing their release is safe even when they're not actively monitoring it. If you want some peace of mind and improved deployment accuracy, why not try it for yoursef with a 30-day free trial of Gearset today?